Developing Mobile Websites for iPhone & iPad
Google has announced that within the next two years more searches will occur from mobile devices than from desktops or laptops. Providing your customers with a high quality, simple to use, mobile optimised website is crucial to becoming a market leader in your field.
"…a truly seamless customer service experience"
As mobile device screens are typically much smaller than a desktop monitor, the information that is is presented has to be the most important aspects of your business. A 400-word "About Us" page is not going to be read from a mobile device, but an easy to find contact phone number and address are.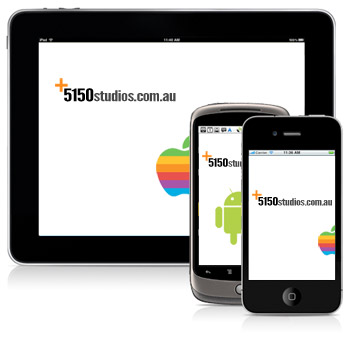 Having a mobile optimised website is providing a truly seamless customer service experience and will keep your business ahead of the competition. Mobile Website Development is advancing constantly and is quickly becoming a necessity for any business, as there are more mobile phones than people currently in Australia!
You will find three categories of mobile websites are available and can be catered for individually or at the same time which includes:
Mobile Platforms
Tablets – Apple, Android
Smart Phones – Apple, Android and Windows
Alternative Phones – Nokia, Motorola and Ericsson
Mobile websites typically take the most important aspects of your website and provide minimal navigation for ease of use. You may even focus more on product or service images to showcase your business and provide a simple to fill out contact form.
"Mobile searches will overtake desktops searches in 2013…"
5150 Studios will work closely with you to develop the perfect mobile website to best represent your business and create an unrivaled customer service experience.
We can even take your existing website and convert it to a mobile website for you! Get in touch now by calling 07 5547 5488 to learn more about mobile website creation & development.
We are happy to contact you, simply fill out the form below and 5150 Studios will be in touch shortly.